Odds 1 : 24 (1 chirography autograph per box).  24 packs per box, 5 cards per pack. MSRP was $4.99 per pack.  Hobby only.
Each Chirography card is also available in a (GOLD) parallel which is hand-numbered to the player's uniform jersey number and listed in parenthesis next to the players name.
Redemption cards (EXCH) were inserted for four players and expired on 2-24-2000.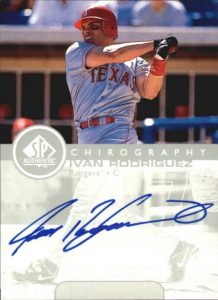 | Own | Card | Name | Grade | Paid |
| --- | --- | --- | --- | --- |
| X | AG | Alex Gonzalez (22) | Raw | $7.20 |
| X | BG | Ben Grieve (14) | Raw | $7.20 |
| X | BF | Brad Fullmer (20) | Raw | $4.00 |
| X | BC | Bruce Chen (48) | Raw | $3.20 |
| X | CR | Cal Ripken, Jr. EXCH (8) | Raw | $69.12 |
| X | CP | Calvin Pickering (6) | Raw | $2.40 |
| X | CB | Carlos Beltran (36) | Raw | $24.99 |
| X | CJ | Chipper Jones (10) | Raw | $71.00 |
| X | CK | Corey Koskie (47) | Raw | $9.00 |
| X | EC | Eric Chavez (30) | Raw | $5.00 |
| X | GK | Gabe Kapler (51) | Raw | $9.00 |
| X | GMJ | Gary Matthews, Jr. (68) | Raw | $3.20 |
| X | GL | George Lombard (26) | Raw | $4.00 |
| X | GM | Greg Maddux (31) | Raw | $100.00 |
| X | GV | Greg Vaughn (23) | Raw | $12.28 |
| X | IR | Ivan Rodriguez (7) | Raw | $20.00 |
| X | JD | J.D. Drew (8) | Raw | $7.95 |
| X | JG | Jeremy Giambi (15) | Raw | $3.20 |
| X | JT | Jim Thome (25) | Raw | $19.04 |
| X | JR | Ken Griffey, Jr. EXCH (24) | Raw | $227.00 |
| X | KW | Kerry Wood (34) | Raw | $25.25 |
| X | KW | Kevin Witt (6) | Raw | $3.20 |
| X (3) | MA | Matt Anderson (14) | Raw | $1.35 ea |
| X (2) | MK | Mike Kinkade (33) | Raw | $1.85 ea |
| X | ML | Mike Lowell (60) | Raw | $4.80 |
| X | NG | Nomar Garciaparra (5) | Raw | $32.50 |
| X | RH | Richard Hidalgo (15) | Raw | $5.60 |
| X | RL | Ricky Ledee (38) | Raw | $7.20 |
| X (2) | RR | Ruben Rivera EXCH (28) | Raw | $2.50 ea |
| X | RB | Russell Branyan (66) | Raw | $7.20 |
| X | RM | Ryan Minor (10) | Raw | $3.20 |
| X | SR | Scott Rolen EXCH (17) | Raw | $19.48 |
| X | SM | Shane Monahan (12) | Raw | $3.20 |
| X | TH | Todd Helton (17) | Raw | $13.95 |
| X | TW | Todd Walker (12) | Raw | $5.00 |
| X | TG | Tony Gwynn (19) | Raw | $59.75 |
| X | TL | Travis Lee (16) | Raw | $8.41 |
| X | TGL | Troy Glaus (14) | Raw | $14.88 |
| X | VG | Vladimir Guerrero (27) | Raw | $24.55 |